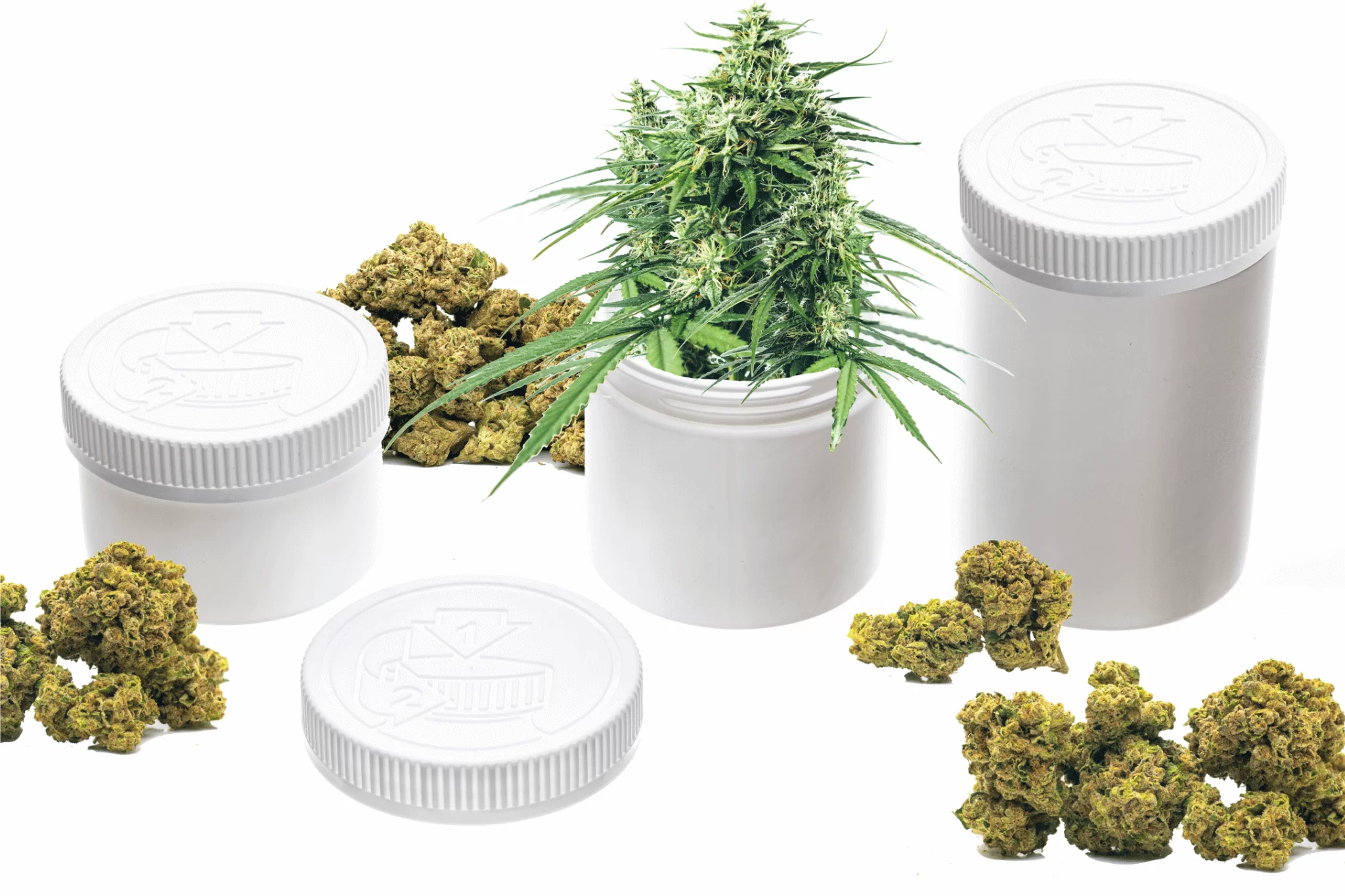 The global medical cannabis industry is growing rapidly and its market value is expected to reach around $44 billion by 2025. As the use of cannabis increases, there is a growing demand for high-quality and safe packaging solutions. Those can be tailored to the specific product being packaged, whether it be flowers, oil, or cannabis extracts. These packages serve a dual purpose, preserving the cannabis quality and protecting against unwanted access, particularly by young children.
Moving toward plastic packaging
In recent years, the medical cannabis packaging market has been changing, both in terms of the materials used and cannabis packaging design. Rigid plastic packaging solutions gradually replace traditional glass packaging and aluminum bags. This is mainly due to the significant advantage of plastic packaging: it is by far a lightweight solution, preserves the quality of the product, protects it from mechanical damage and degradation, and includes a child-resistant opening mechanism. In addition, as the cannabis market matures, competition has expanded its efforts beyond the quality of the strain to also include the branding of the manufacturer and product. Eye-catching packaging, which can be achieved easily with plastic packaging solutions, provides functional benefits and marketing advantages, such as colorful packaging, prints, and manufacturer logos that aid in brand recognition.
The secret is stored in the packaging
Cannabis products, in all their forms, are expensive and require significant production effort and resources. Thus, the main function of the packaging is to protect the integrity of such an expensive product. Protection against moisture, light, and oxygen is crucial. Mechanical protection is also important, throughout the logistics value chain. The packaging must also provide an odor barrier to keep the freshness of the flower and maintain the required concentration of terpenes and active substances, including CBD, CBN, THC, and more.
There is a wide range of medical cannabis packaging solutions available on the market, with options such as medical cannabis jars made of glass or plastic, aluminum bags for flowers, and glass bottles for packaging cannabis oil. The choice of packaging is highly dependent on the specific medical product it should contain, as flowers require different packaging than oil or extract products.
For cannabis inflorescences, hermetic packaging is required that will preserve its freshness and the aforementioned active components, while also protecting it from mechanical damage and allowing for easy removal from the package. Glass packaging is hermetic and preserves the quality of the product. However, it possesses two major disadvantages: it is mechanically sensitive to breakage, leading to product waste and financial loss and since glass weighs four times higher than plastic, it is significantly heavier. This influences the transportation costs, especially in cannabis products that are transported to customers abroad by air rather than by sea.
Another common packaging solution is a metalized flexible bag. While these bags are lightweight and unbreakable, they are not child-resistant, and the metalized layer makes bag recycling impossible. For some users with motor problems, ease of use is important. This makes plastic containers with convenient lids preferable to bags with difficult-to-open closure strips.
Rigid plastic packaging made from HDPE allows for all the benefits, including mechanical resistance to breakage, low weight, full recyclability, and protection from unwanted openings by having a child-resistant cap. Gil Pack will provide you with a complete solution including the jar, the cap, and a seal whose composition of layers can be adjusted according to the customer's requirement. The packaging design can vary in shapes and colors that will stand out on the shelf and even provide differentiation for the manufacturer and between different varieties of inflorescences.
Child protection cap for wide diameters
Plastic packaging intended for cannabis must be child-resistant. A cap, with a special mechanism, must be fitted to the jar or bottle and after approval and compliance with standards and regulations, the cap is declared as child-resistant. Producing a child-resistant cap can be challenging since it involves multiple components. When these components are not perfectly matched, the mechanism may fail, and the cap can be opened like a regular one. A wide child-resistant cap is even more problematic because the wider the cap, the more likely it will bend when exiting the injection mold and the mechanism will not work. Gil Pack is an expert in creating child-resistant wide caps. Through an in-depth understanding and familiarity with the production processes and the complexities they present, we were able to produce child-resistant caps with diameters of 53 mm, and 70 mm – common in the cannabis field, and even an 89 mm diameter cap, with an especially wide mouth. All the child-resistant caps we produce stand in all the required standards and regulations.
Proximity to cannabis growers and packagers leads to better packaging solutions
Israel has positioned itself as an agricultural powerhouse for growing cannabis with a large number of companies licensed to grow and cultivate, pack, and manufacture packaging products for medical cannabis, all under appropriate reforms and regulations. Gil Pack specializes in manufacturing and supplying plastic packaging solutions for the pharmaceutical sector and serves many growers and packaging factories for medical cannabis in Israel and around the world. We leveraged our knowledge and experience in the field to develop medical cannabis flower packaging.
We provide a complete solution from our stock, starting with containers, caps, lids, and seal liners. Among our products, you can find packaging for 10 grams of inflorescences, in volumes of 250 ml and with wide openings of 70 or 89 mm, these allow the removal of the inflorescence in its entirety by the customer and support a high filling rate in the packaging factory. In addition, we can perform full branding for the customer on both the seal and the container to prevent counterfeiting. All of our products comply with ISO 15378: 2017, which is the standard that the Israeli Ministry of Health requires from packaging manufacturers (IMCA – the medical cannabis unit). Gil Pack is one of the few companies in Israel that holds this standard to manufacture primary packaging for pharmaceuticals.
Gil Pack stands at the center of the cannabis powerhouse
As in many other areas in the world of packaging, here too plastic packaging presents a distinct advantage for cannabis flowering. With the knowledge, experience, technology, and flexibility in colors and quantities, Gil Pack provides complete and high-quality solutions, both for flowers and medical cannabis oil worldwide.