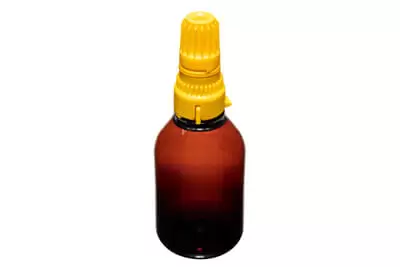 One of our European clients from the pharmaceutical industry approached us with a request to develop a bottle with a cap to be used by the client for filling and packing an anesthetic liquid called Sevoflurane, which is used in operating rooms. During the development process, we designed for the client a bottle made of a unique material with a barrier highly resistant to gases called PEN (PolyEthylene Naphthalate). Thus, the client essentially became one of the few manufacturers in the world who use a plastic bottle for filling Sevoflurane, while all the other competitors use glass or aluminum bottles.
In addition, we developed for the client a cap that includes a valve, which enables the convenient pouring of the anesthetic liquid into the vaporizer in the operating room. The cap also has several unique elements that cannot be found among the competitors' products, including the option to reuse it on a number of bottles, the ability to use the valve on both plastic and glass bottles, tamper evidence, etc. All of these features have given the client a massive advantage when marketing their product to hospitals and clinics in Europe.
The development process included the product design, mold manufacturing, blow and injection molding, and the routine production of the bottles and caps at our factories. This case is a distinct example of our development capabilities, where we take the client's preliminary idea and develop it from scratch until reaching a working product manufactured in commercial quantities.